Taiwan Technical Mission donates power tiller to PNG UNRE
AGRICULTURAL training institutions like PNG University of Natural Resources and Environment need to provide training in commercial and large-scale agriculture.
Acting Dean of the University's School of Natural Resources and Head of the Department of Agriculture, Peter Navus, said this earlier this month at the handover ceremony of a power tiller donated by the Taiwan Technical Mission (TTM) in Lae.
Mr Navus said until Papua New Guinea develops its commercial agriculture, it cannot compete with the agriculture industry of countries like Australia.
He said with this focus in mind, it is important that institutions expose students to the latest agriculture technology; and have agriculture machinery such as the power tiller and others, that students can be taught how to use to increase farm productivity.
Thanking TTM for the donation, he said he looked forward to seeing the Taiwan-PNG UNRE partnership, positively contribute to the University's teaching, learning and research objectives, and ultimately its Vision and Mission.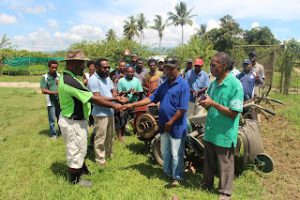 Mr Ambrose hands over the power tiller to Farm 
Manager Alex Nugi (left) while Acting Dean of the
School of Natural Resources Peter Navus (right) and 
others look on.
Mr Navus also thanked academic Dr Caleb Breria who was instrumental in linking the University to TTM in Papua New Guinea.Farm Manager, Alex Nugi, thanked everyone for attending the demonstration and handover of the power tiller; and thanked TTM for the donation.
He said over the last 18 months, the farm has been working to improve capacity in terms of new machinery, equipment and innovation to support academic programs, so the power tiller is a welcome donation that is well appreciated.
"I would like to extend our gratitude to the Taiwanese Embassy for meeting this need," he said.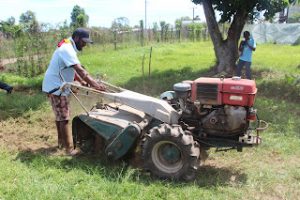 Final year Agricultural Student Sebulon Porikura
demonstrates how to use the power tiller. Sebulon was 
one of three students attached to the Taiwan Technical 
Mission in Lae last year for their Industrial Training.
Mr Nugi said it is difficult to look after manpower with regards to welfare issues such as salaries and housing so agriculture mechanisation is the way forward to reduce the labour workforce and increase productivity.
He said it is important that students are taught how to operate such machinery because agricultural technology has evolved.
"We have to have these machines on site so students can learn," he said.
The power tiller was received from Head of Taiwan Missions in PNG, Mr. Chin Yu Lee and Taiwan Missions Technical Assistant, Mr. Fabio Liu Hung Tse by UNRE Estates & Services Manager Mike Ambrose and Dr Breria in Lae in March this year.
Mr Ambrose formally handed it over to Mr Nugi in a small but significant ceremony.
He conveyed TTM's desire that the power tiller is looked after and used to benefit the University's academic functions.
This is not the first time Taiwanese Embassy has assisted the University. Last year, it donated various vegetable seeds. 
Three agriculture students were also attached to TTM from November 2021 to February 2022 for their Industrial Training; and earlier th
is year, UNRE staff were given the opportunity to apply for scholarships to study at National Pingtung University of Science and Technology in Taiwan.
Dr Breria said up to ten scholarship spaces will be awarded to University staff and students every year in two universities in Taiwan.